A* Pathfinding
A* is a pathfinding algorithm commonly used in video games. In this example, you choose the start and end point of the route first. The algorithm then finds the path with the least costs between these points, considering that each tile has different costs or may be even unwalkable. Furthermore, you're able to navigate Pacman accross the field. Paths that cross Pacman's near surroundings (i.e. within Pacman's influence radius) experience increased costs and may get more expensive than a longer way around Pacman. The algorithm therfore dynamically re-evaluates pathes that cross Pacman's influence radius and adapts the route as necessesary.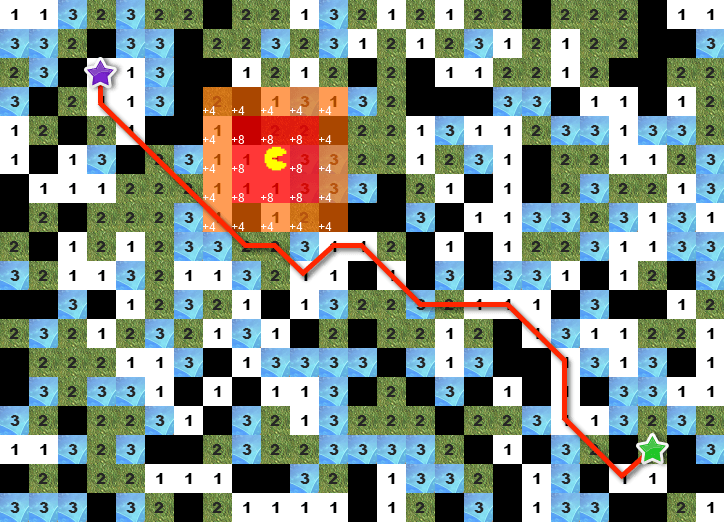 How to play?
Begin by setting the start point. Move your mouse over the territory and click on the desired field. Note: black fields are considered unwalkable and can't be chosen as start or end point.
Next, position the end point by clicking on the desired field
The path with the lowest cost is calculated. The cost is determined by a heuristic considering the distance (horizontal or vertical moves count 1, diagonal moves 1.41), the cost multiplier of the field (1 = Street, 2 = Gras, 3 = Water) and the influence of the enemy (Pacman)
Use the arrow keys to navigate Pacman through the scene. The cheapest path is re-evaluated immediately on every move.
| Field | Cost |
| --- | --- |
| Road (white) | 1 |
| Gras (green) | 2 |
| Water (blue) | 3 |
| Obstacle (black) | ∞ |
| Pacman's Position | 16 |
| Near surrounding of Pacman | Fieldcosts + 8 |
| Far surrounding of Pacman | Fieldcosts + 4 |
Requirements
What you need for compiling:

Source Code
Get it